Best of Banff, Canmore, and Calgary Food and Drink
The Canadian Rockies, specifically Banff, has been an increasingly popular travel destination over the last couple of years. This travel destination is visited year-round by adventurers who want to paddle across the turquoise waters of an iconic mountain lake or climb up a frozen glacier that spans over three miles.
One of my favorite parts of traveling is experiencing the different flavors and tradition of the local area. Poutine is the infamous Canadian cuisine. There are not too many extreme flavors or dishes that vary from American cuisine. To save you time scouring Yelp and Trip Advisor trying to find your next dining destination, I share my favorite and least favorite dining spots in Calgary, Canmore, and Banff.
Iron Goat Pub and Grill, Canmore ⭐⭐⭐⭐⭐
While dining at Last Best, Calgary, we met a gentleman at the bar who noticed we were not from the area. (I think our lack of accent gave us away) . As one does, we started chatting with him about "must go to" places in the Canadian Rockies. He frequented the Canmore area as he owned a vacation home there and told us about the Iron Goat. The name "Pub and Grill" is deceiving and in my opinion, is not a casual "Pub and Grill". This restaurant has an all-glass wall that faces the mountains with breathtaking views.
OVERALL
The food and drinks were five stars, as well as the dining experience. Find a night and make reservations.
The Tavern 1883, Canmore ⭐⭐⭐
A tip for those headed to The Tavern, enter on 10th street. Your map app might guide you to 9th Street, but 10th street is the entrance of The Tavern. We did not have reservations, but they are available online.
We sat at the bar as it seemed to be a centralized part of the restaurant. The bar staff was very personable and friendly. We learned that there are many transplants that move to the area because of their passion for skiing, hiking and adventure. The bartender sold us on their Tavern Burger that is prepared sous-vide. In my opinion, the burger was average. Although it certainly was not dry, it did not have much flavor. The Tavern had one of the local breweries, Canmore Brewing Company, on tap which was a nice addition to a flavorless burger.
OVERALL
If you're looking for a casual place to drop in after a long day of hiking or skiing, head over to The Tavern for a welcoming dining experience. If trying the traditional Canadian poutine dish is on your bucket list, this would be the place I would do it!
Last Best, Calgary ⭐⭐⭐⭐
When landing in Calgary, we headed straight to Last Best for a late lunch and brew. We arrived after traditional lunchtime, therefore, there was plenty of room at the bar and dining room. The modern menu made it hard to make a decision after our travels. We were so hungry, we both opted for the Alberta burger and a hoppy IPA.
OVERALL
If in downtown Calgary, definitely head over to Last Best. Not only do they have great food and drinks, but they also have some fun swag! #Albeerta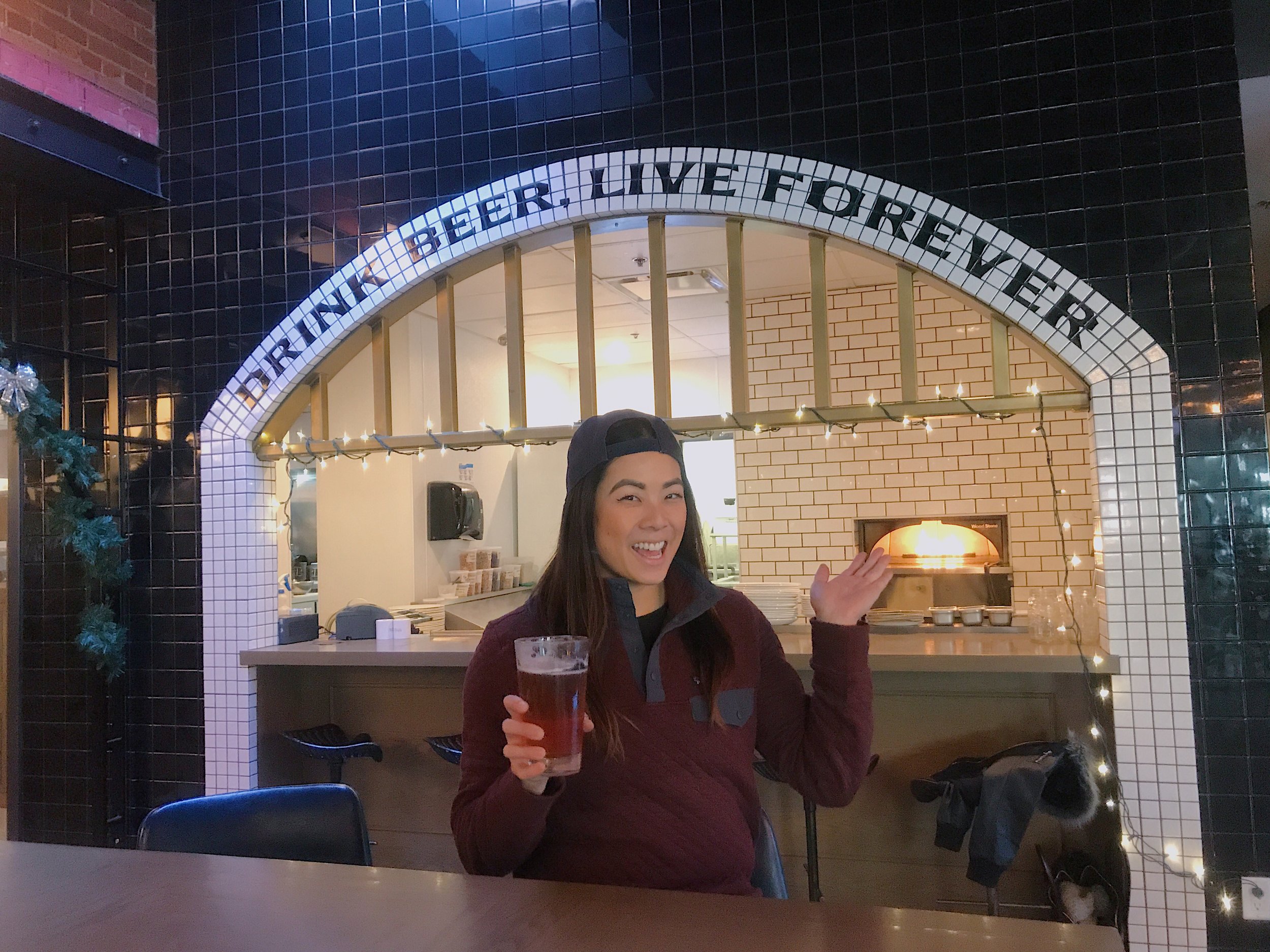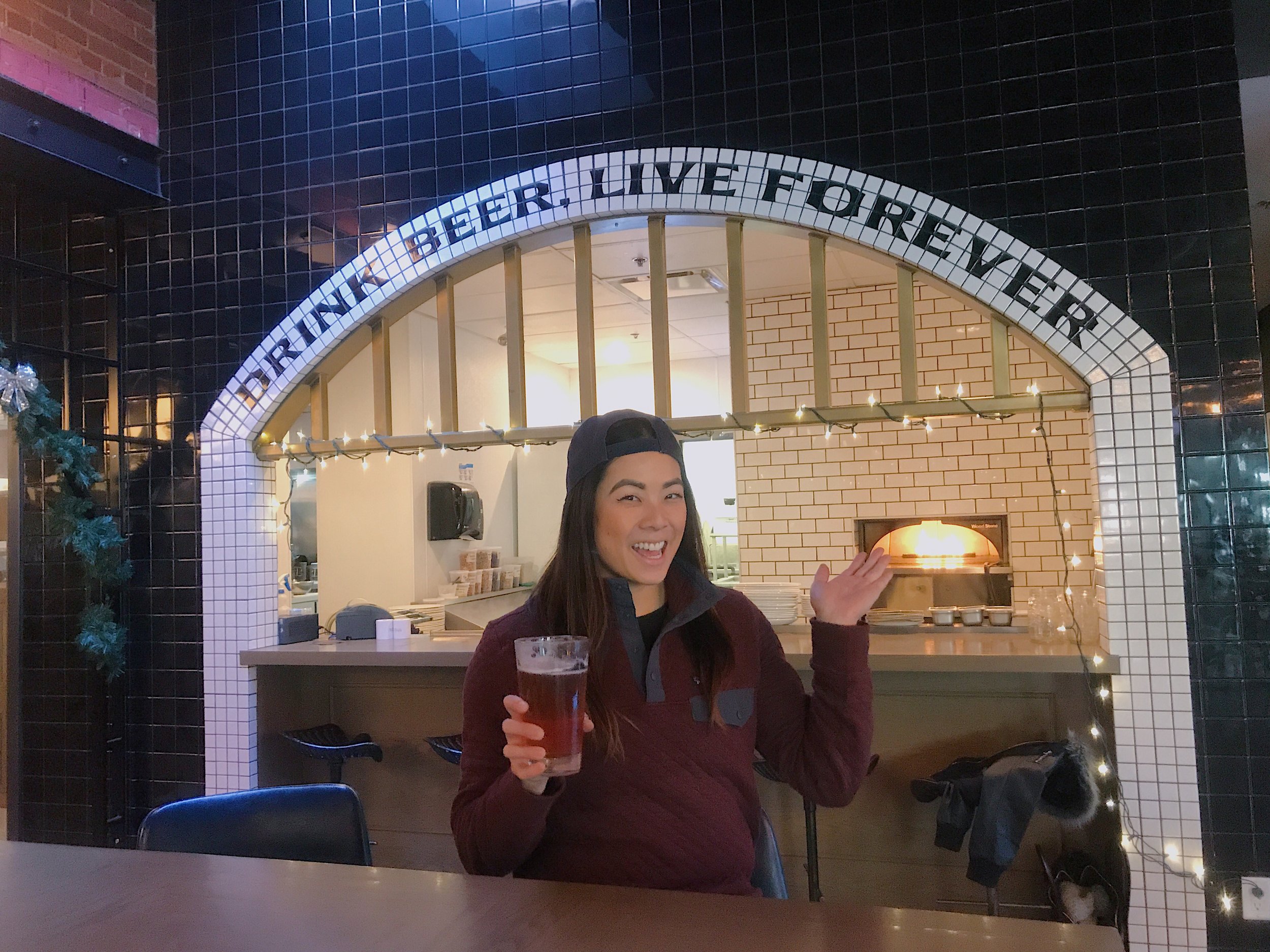 Tim Hortons, Everywhere! ⭐⭐⭐
Just like McDonald's in the US, you will see Tim Hortons all over Canada! Although it's fast food, I felt the need to get the full Canadian experience and dine at Tim Hortons. If we are being honest, it was actually very tasty. Who doesn't love a side of hashbowns with their hashbrown sandwich?
OVERALL
Make sure to indulge in the Canadian tradition of Tim Hortons for a quick breakfast out to the slopes or peaks.
Wild Flour Bakery, Banff ⭐⭐⭐⭐
Looking for a local breakfast or sandwich shop to pop into while shopping in downtown Banff? Wild Flour Bakery is the perfect spot nestled in the heart of downtown Banff. We popped in at lunch and was lucky enough to snag a table as they are first come. The food was prepared in a timely manner and allowed us to get back to shopping.
OVERALL
Wild Flour Bakery is very popular, and rightfully so. Their food is fresh and perfect for a lite lunch. Make sure to snag a table as soon as you see people get up. Send your fellow traveler up to order so you can claim your table.
Canmore Brewery, Canmore ⭐⭐⭐⭐⭐
Canmore Brewery is the best brewery we visited on our trip to the Canadian Rockies. Visitors can sit directly in the brewery or take canned brews home.
OVERALL
If you enjoy the art of craft beer, make sure to add this to your list of Canmore stops. This recently opened brewery has quickly established itself and can be found on tap in many local restaurants too.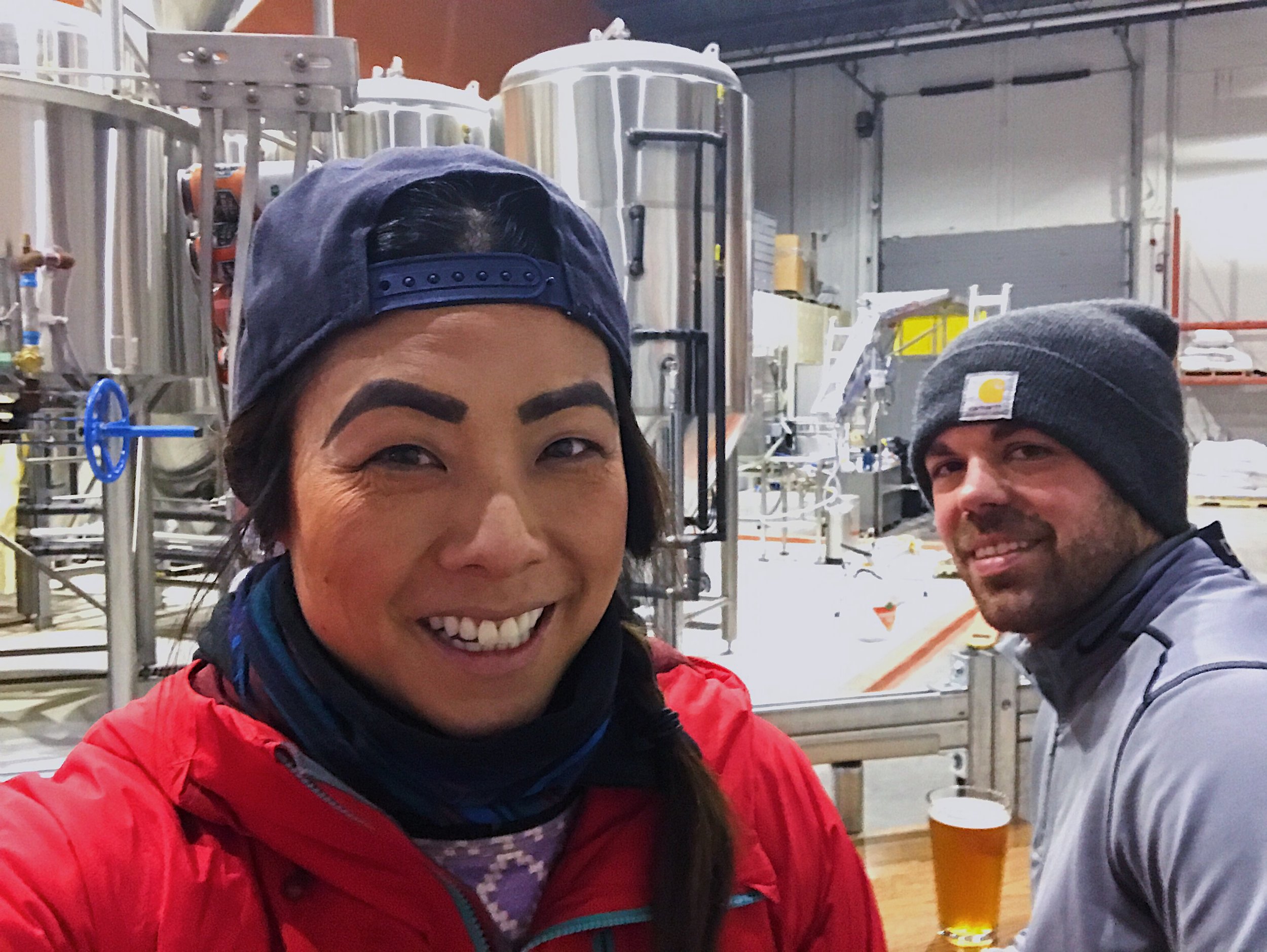 Trolley 5, Calgary ⭐⭐⭐⭐
We stopped in at Trolley 5 before heading to Canmore. Located on 17th Avenue, this brewery has a fun interior with beer growlers traveling along a rail system. Trolley 5 is another great place to visit if you love visiting microbrews.
St. Jame's Gate Irish Pub, Banff ⭐⭐
After shopping at Patagonia, I asked the staff where they would suggest grabbing a casual dinner in Banff. They suggested to head to St. Jame's Gate Irish Pub for a great burger and brew. A short walk from Patagonia, we headed over and got seated with no problem.
OVERALL
The Banquet burger and beer selection were adequate but the dining experience was just average. (I realize that we order quite a few burgers in Canada 🍔and this was my least favorite of all of them) I would not return to dine here if in Banff again.
Bear Street Tavern, Banff ⭐⭐⭐
http://www.bearstreettavern.ca
A fellow Canadian referred us to try Bear Street Tavern's pizza. We felt comfortable in our ski gear as we dined there after hitting the slopes at Sunshine Village. The staff and bar seating were welcoming. The pizza was perfect to restore the bumps and bruises from the day.
OVERALL
No need to get fancy for this place. Feel comfortable popping into Bear Street Tavern after a long day of hiking or skiing for some great pizza, beverages, and dining.
Mary's Popcorn, Banff ⭐⭐⭐⭐
This popcorn shop was the perfect stop to grab some snacks. It is no comparison to Chicago's tradition, Garrett's Popcorn, but when your 1600 miles away from home this is a great replacement.
Grizzly Paw Brewing Co, Canmore ⭐⭐
https://www.thegrizzlypaw.com/
Located right on the main street of downtown Canmore, this brewery probably gets a lot of foot traffic but was my least favorite. The atmosphere and menu reminded me of a modern sports bar chain. The food was average and their locally brewed beer selection was below average.
OVERALL
If you are looking to visit a brewery with some 'note worthy' beers, make a trip over to Canmore Brewery. You can thank me later. 😁
Have you visited Banff, Canmore, Calgary, or Jasper National Park? What were you favorite dining experiences?
UNTIL MY NEXT MOMENT-